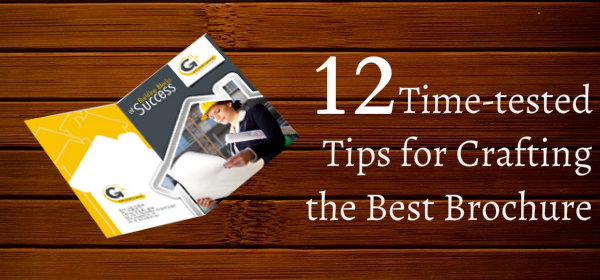 A highly efficient brochure is always going to be successful in detailing all the information of a business. Yes, this is true even in the current age of digitization. Thus, like most business owners of this century, if you too want your business to have interesting brochures, you must hire a renowned and professional brochure design agency. Experienced professionals from such agencies can design brochures that can be an instant hit among your potential customers. Thus, such well-crafted marketing tools are essential for you to stay ahead of your competitors and be the focus of the market. 
If you are interested in including brochures within your marketing strategy, you must know more about them. A brochure is a kind of leaflet, which gives various information to targeted audiences on products, services, events, campaigns or even on businesses. It is basically a single sheet of paper, which is either folded into a bi-fold or a tri-fold. Some brochures are also made into z-folds or c-folds. Hence, if you want your prospective buyers to know why they must choose you over your competitors, you must invest in making mind blowing brochures.
In this blog, I am going to discuss some of the essential tips for making impressive brochures.
# Making it worthwhile to keep the brochure –
Your potential customers would be reminded of the products or services of your business in times of need, only if they store your brochures. So, when professionals make new brochures, their aim is to make ones that targeted audiences would find worth keeping. This initiative includes using legible fonts, attractive colors, high-quality paper, useful content and amazing images on a bifold brochure or any other type of brochure.
# Making it convenient for audiences to respond –
An initiative of creating brochures starts achieving its objective when targeted audiences contact your business. For that, it is essential to include the name, address, contact information, website and email on every brochure. If your business has accounts on social media, add them as well. To make it further convenient for audiences to contact you, ask designers to print your QR code on the brochures.
# Keeping choices for audiences –
If your budget permits, opt for various designs for one brochure-making project. Today's market expects quick changes and hence, you must be ready to implement twists to these traditional advertising tools. When you have more than one brochure with the same information, targeted audiences can enjoy the luxury of choosing the one, which they find most appealing.
# Adding relevant images –
Without images, a brochure is nothing, but an unimpressive leaflet. Potential buyers would be interested in going through your brochures, only if there are intriguing and beautiful images. Moreover, though written messages can fail to attract audiences, images are always successful. To assist readers in understanding the message, professionals choose images that go with the theme of a brochure. As images carry a lot of importance, you must go for them, even if you have to pay money. In case your budget permits, you can also arrange to shoot product photographs for your brochures.
# Using appropriate colors –
This is one of the most important challenges that experts have to go through, when they make a professional brochure design. This is because, people respond to colors in different ways. For instance, some people may pick up a brochure for a particular color, whereas others may dislike it for the same reason. So, the best idea is to use the trademark colors of a company. Designers also use different shades and tones of the signature colors of a business on its brochures.
# Using premium-quality paper –
You must always remember that brochures are marketing endeavors and the ones made from flimsy papers are not impressive advertising tools. So, to promote a positive impression and instill confidence among the targeted audiences, the designers you hire would always use high-quality papers to make brochures. Using premium-quality papers can be a costlier initiative, but it would be useful for standing out among competitors and urging readers to know more about your brand.
# Writing an emphasizing headline –
The headline of a bifold brochure or a brochure of any other fold must instantly convey what the leaflet is all about. For example, if you are introducing a new range of products in the market, the headline should immediately state that. This can make the brochure more useful in the eyes of the targeted audiences. Designers always stay away from adding too much information about the business in the headline of a brochure. This can shift the focus of the headline from the main purpose of the brochure and deter targeted audiences from going through it, and taking some positive action.
# Adding a call-to-action –
Every well-designed brochure must be armed with a powerful call-to-action. A brochure without a call to action is similar to a weak handshake. This means that a brochure will never appeal to targeted audiences unless it has an impressive call-to-action. Thus, brochure designing experts never make the wrong assumption that people will attend an event, buy a product or opt for a service just by viewing a beautiful brochure. They write a call-to-action, which propels readers towards the products or services of a business.
# Avoiding complicated words –
Brochures are meant for all kinds of audiences and not only for literary-minded ones. So, if you use complex words, it can be difficult for you to impress the potential readers. In fact, it can be difficult for you to put across the main point of the message, if you use difficult words. So, the best practice in making a professional brochure design is to use plain and simple language in a convincing way.
# Designing for the potential buyers –
This is one of the rules that brochure designers always abide by. They keep the preferences of the potential buyers in the forefront and allow their own wishes to take the backseat. They do this because their goal is to make brochures that can become popular in the targeted markets of their clients. For instance, even if a designer dislikes the color blue, he or she would incorporate it in brochures, so that the marketing tools are successful in achieving their objectives.
# Going directly to the point –
Beating around the bush is strictly avoided by designers, when they craft a brochure. So, instead of listing all the achievements of a business, they straight away mention the necessary information about any product or service. Designers do this because they are aware of the fact that too much information can confuse the readers and dissuade them from taking any positive action.
# Being familiar with the objective –
Designers are aware of the fact that to make creative and unique brochures, they must know the objective of the initiatives like the back of their hands. It is the purpose behind a brochure, which guides designers in the proper direction. Designers collect enough information about the objective of a brochure, so that they can choose the best design for it.
These guidelines are the backbone of an effective bifold brochure or any other type of brochure. So, if you want to gain popularity, with the help of these marketing tools, hire a renowned brochure designing agency, soon.
http://brochureguru.com/blog/tips-for-crafting-the-best-brochure/
On – 25 Jan, 2017